YAM Finance Token Saga : Why it was positive for DeFi. PROOF of Successful Real-Time Voting on the Blockchain in time of crisis
By: Mike Hendley 8/13/20
The first instance of true democracy in DeFi occurred with members of the YAM Community voting on the blockchain on Wednesday in a moment of crisis. Despite the ultimate failure of preventing a critical bug in the rebase code, it was a still was still a win for decentralized finance and citizens of the world.
It was a day of reckoning for the Yamanites, the Yamptopians or the "YamFam", some of the nicknames the Yam community have given themselves. A bug found in the rebase code needed an urgent vote to delay the next rebase with only a 12-hour window to have yam token holders delegate their votes.
In a chaotic spree of confusion and flurries of new info coming in a rapid pace, champions helmed the Yam telegram groups, while other DeFi chads, Hudson Jameson , Tim Coulter , Anthony Sassano , DeFi Dad, ChainLink God, yours truly, and many many others kept Twitter abreast of the latest developments alongside Yam Finance themselves.

Yam's inital tweet post first rebase:
What happened with the rebase code? Yam Finance posted what happened and the issue in their own words here.
The community rallied and banded together on Twitter
---
After the voting had started:
---
Members could check the voting progress on etherscan.io
CoinGecko even graciously added this to their website as well to help save the YAM community.
Teamwork on the Yam Finance Telegram
Finally, after hours and hours of the community working together, they reached the necessary 160,000 votes.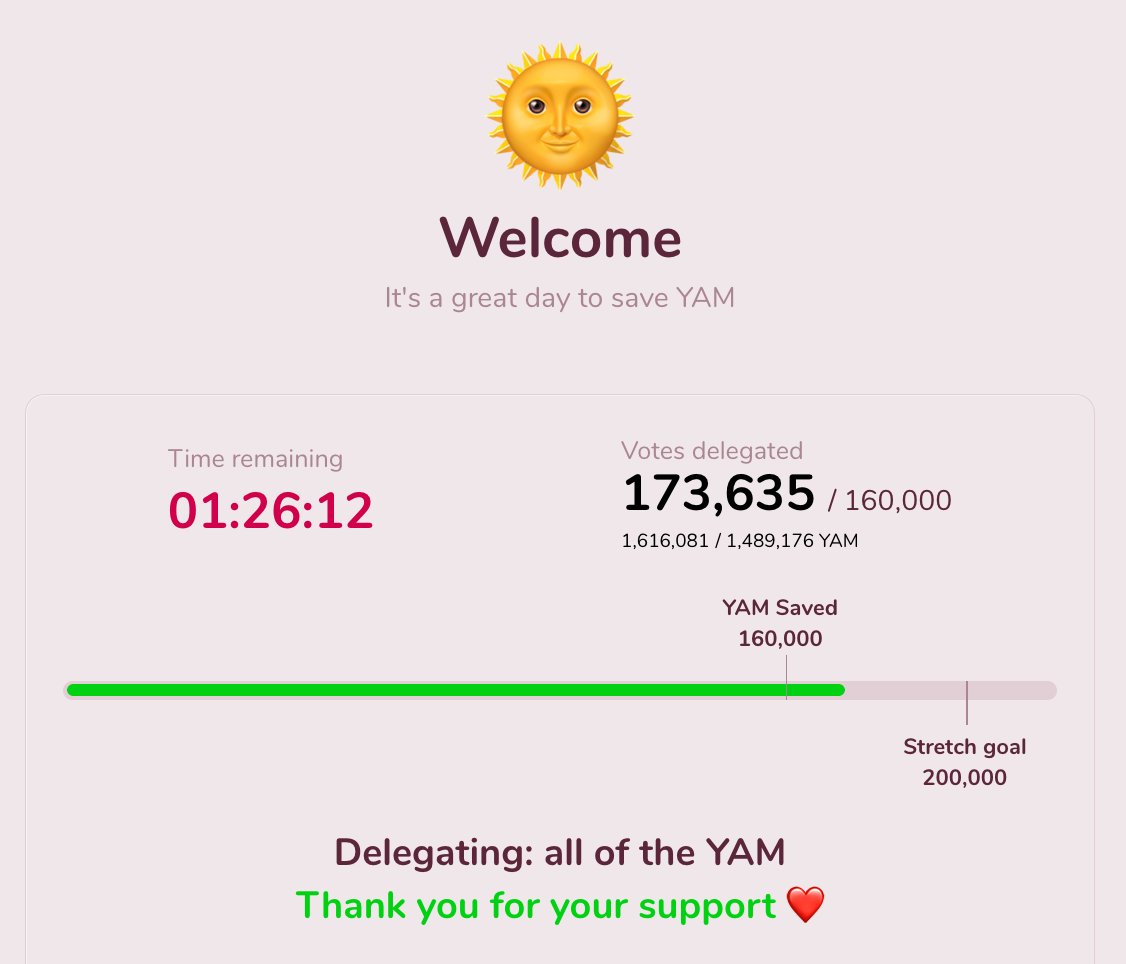 Just when the community thought they were out of the woods…
Then the second rebase executes anyway.
In an emotional tweet, Brock Elmore writes:
---
What will happen now? Will there be a fork or migration?
We don't know at this very moment. Some say the experiment has failed. Others, have hope. I guess time will tell. I believe the team was completely shocked at the market demand for their token and really were simply putting the token out for fun, and for the greater good.
Even if Yam Finance ends up being a failure, it made me feel very alive and excited about the potential of DeFi, and what it can do for humanity.
Yam Finance was doing something daring, complex, and creative and breathed new life into the DeFi space, like I've never seen. To Brock, I say: It was a brilliant idea and you created something exciting, groundbreaking, and something we had never seen before. Be like Robert DeNiro who played Jake LaMotta in Raging Bull, you may have gotten hit, but they never knocked you down. "You never knocked me down Ray!"
It truly felt like being a part of something revolutionary, and it was exhilarating watching it unravel in real-time. It was incredible to be a part of such an amazing community.
Accidentally, what happened with Yam Finance and the Yam community taught us all two very important lessons:

1) The DeFi community is stronger, more capable, and more tight-knit than we could have ever imagined. We want to help each other succeed. We are a community that believes in financial freedom for all.
2) Voting on the blockchain can be highly efficient (assuming the code is air-tight), and it can be done very effectively in a short period of time, even in times of crisis.
–Mike Hendley
---
Thanks for reading about YAM Finance.
DeFiRev.com is #1 in DeFi News. Check back in soon to find out the latest in DeFi News.
---
Make sure to check out more DeFiRev articles and sign up for our exclusive newsletter + get access to VIP DeFi Networking

here.
---
🔥Share this article below 🔥!
MetaMask Swap : Here's What you Need to Know
MetaMask Swap :New feature Token Swap pitched for best trading experience in DeFi
MetaMask Swap has now officially launched. Metamask is a broswer extension and the most popular and used wallet and gateway for Ethereum. Metamask rose to great prominence this year with the ascension of Uniswap.
Now ConsenSys has recently made a big announcement – a new feature it has added in its kitty which is stated to resolve ancient issues of crypto wallets. The MetaMask Swap feature introduced by the giant aims to compare as well as swap tokens directly within MetaMask.
MetaMask has grown from strength to strength and has emerged as a wallet trusted by millions. It now has more than one million active users of its wallet services and is trusted by them to securely store their digital assets. It also is touted to offer a diverse variety of tokens at the best princess across DeFi.
Known to provide bespoke software solutions for the Decentralized Finance markets, ConsenSys, has established its foothold as the leading Ethereum Software company. 
Let's explore it in detail.
MetaMask Swap: Best Features
The new token swaps feature will fetch quotes across several decentralized liquidity sources so that the users can get what they want at the best possible price.
Earlier MetaMask navigation was complex and tricky. The user had to go through many decentralized exchanges or aggregators which offer a different set of tokens at different prices. In addition, every token had to be approved for trading adding to the woes. But the new token swap feature offers a platform that has an intuitively integrated user experience and streamlines all available liquidity.
The novel platform also aims to bring in greater transparency and efficiency resulting in a better network experience.
The feature will be initially available to users of the MetaMask extension on the Firefox browser. The concern plans to come up with versions for other browsers as well as MetaMask Mobile.
Benefits of using MetaMask Swap
Token Swap has several benefits in the offering because it has taken into account everything that worked against MetaMask in the past. Some of the most discernible benefits are:
MetaMask Swap Offers more liquidity mining
Every aggregator will interact with different liquidity sources that hold a certain amount of liquidity. By getting orders from many aggregators like Uniswap, Airswap, 1inch.exchange, Kyber, and the likes it will have access to the maximum liquidity across the DeFi ecosystem.
Best prices and tokens
Decentralized Exchange aggregators in the sector employ different trading strategies. This explains why the assets are priced differently.
But the users of the MetaMask wallet under the new feature can request prices from all the available aggregators and individual market makers. MetaMask will then ensure that every user gets what they want – the best prices across DeFi. Getting orders from different aggregators also ensures that MetaMask user is able to access all the top available tokens in DeFi.
MetaMask Swap has a great User Experience
To ensure the user doesn't drive away user-experience is the key. Earlier the entire wallet system was a conundrum of confusion and excessive complexity. But, MetaMask has understood that this could be a problem for them as it could drive away users. Hence it has streamlined its approval process so much so that the users will now be able to access liquidity directly from the MetaMask User Interface. Previously they were required to navigate each DEX separately but this is a more combined and integrated approach that will simplify the entire process.
MetaMask Swap has Lower Gas Fees
Every single DeFi aggregator pushes to its etched out path to get the best trade. Every route it chooses has a different gas fee to ensure the transaction takes place. MetaMask through its token swap feature will get the best prices for the user. It also will get them the best aggregator which is most gas-efficient for a trade-in question.
MetaMask Swap has Fewer approvals
Earlier the users had to get the due approval for every token on multiple aggregators. This means that several user interfaces for every approval process but with MetaMask's token swap users need to take approval only once. This directly converts into reduced gas costs and a much lighter approval process.
MetaMask has registered impressive growth figures. Just a few days ago, the noted platform surpassed the figure of a million active users of the wallet services.
With the token swap, MetaMask has excelled itself by removing several issues that barred the user from a good experience. By provisioning an optimized trade path, it has reduced complexities leading to better DeFi adoption. 
DeFiRev.com is #1 in DeFi News. Check back in soon to find out the latest in DeFi News.
---
Make sure to check out more DeFiRev articles and sign up for our exclusive newsletter + get access to VIP DeFi Networking here.
---
Share this article below !
Blue Kirby, why is the crypto media silent? Decoding Blue Kirby's exit (scam) from Twitter space
Blue Kirby, the biggest and the most aggressive promoter of Yearn. Finance has disappeared from the Crypto Twitter space.


It is reported that the real identity of Blue Kirby, who allegedly stole millions, exit scammed. He also ran this site: https://gumroad.com/guap.
Regarding the disappearance of Blue Kirby, where is the investigative journalism? Does the DeFi community not want justice? Are we simply saying this is ok?


It also seems he wasn't very careful in that he allegedly charged $2500 per person for his secret insider information group, where people paid him via venmo, thus leaving proof to his identity.
Within the group,the real person behind the blue kirby pseudonym allegedly leaked insider information about YFI.
So the DeFi space was literally blown away when SushiSwap, assumingly performing magically, suddenly faced an event. Chef Nomi, the anonymous creator of the SushiSwap ecosystem resigned triggering a huge panic among the investors leading the major price drop. The burning question now is whether the latest update on the Blue Kirby also is a suspicious move and should the investors now short YFI.
Three days ago on October 11th, many crypto followers and users had noticed that Blue Kirby, considered as the anonymous legend of the Yearn.Finance community has suddenly deleted their account from Twitter. The worst part of it all is that the disappearance happened without any prior warning and out of the blue.
Australian crypto evangelist Alex Saunders through his twitter account said that he finds it difficult to believe what happened to $YFI. He draws a parallel with Chef Nomi's case and how badly it hurt the DeFi at that juncture.
OFF_BLUE is the only project which is left of Blue Kirby in the truest sense. What really remains active is an Ethereum contract since October 8th and a Twitter account with 3.3K followers and protected tweets. According to experts, it will also address the disruptive segment of Non-fungible tokens.
Eminence rage, a reason for its distancing?
Blue Kirby was successful in creating his/her online persona in the early summer months. This was done by riding on the back of Andre Cronje's crypto hedge fund Yearn. The $YFI cheerleader rose to the ranks of the DeFi Community members on Twitter especially after the community allocation of $7000 per month was done for the tireless promotion of YFI token.
But Blue Kirby's lapse of judgment came into light especially this late September with the sloppy and bungled release of Cronje's Eminence. And now after Blue Kirby decides to resign and disappear into nothingness, it has followed a major explosion of the EMN protocol which is based on Yearn's open-source code. Just 2 weeks ago a wrongdoer and a miscreant planning led to the draining of $15 million in EMN liquidity due to design flaws.
The entire occurrence of disappearance could also be because Blue Kirby started getting all kinds of threats. Undoubtedly the promoter was aggressively pushing the EMN protocol since its launch, but after the hack, the popularity slowly degenerated and converted into disappointment. The moment it received a lot of fire from the community and crypto degens alike Blue Kirby distanced itself from every activity related to Yearn.Finance. In Fact it has taken the distancing very seriously by leaving yield farming telegram groups.
What Blue Kirby meant for Yearn.Finance
Blue Kirby has been the most passionate and aggressive promoter of Yearn. Finance. Right after YFI skyrocketed achieving the fastest 100x, a major rally in the crypto industry ever, there was a proposal submitted by the project contributors to pay Blue Kirby a compensation of $7000 USD every month as it had contributed majorly to its popularity.
But it also came into notice that DeFi community members have alleged that Blue Kirby had unfairly exercised influence over the Yearn ecosystem. It was further alleged that it had conducted a questionable Initial Coin Offering (ICO)for a non-fungible token (NFT) marketplace called Off-Blue.
The DeFi summer fiascos go on to show how permissionless technology, pseudonymous identities, and borderless marketplaces can be an inflammable mix. Without interests at stake, Blue Kirby had very little incentive to act in the long-term interest of the community members as per the opinion of the crypto industry members.
Response from Andre Cronje
Also doing the rounds is the resignation of Andre Cronje who created Yearn.Finance. But he has made it clear that he will stay out of crypto Twitter.
"Still here. Still building. Nothing has changed."
Since Blue Kirby's exit, the price of $YFI has dropped significantly.As of now, the price of YFI is $14,337 USD.
DeFiRev.com is #1 in DeFi News. Check back in soon to find out the latest in DeFi News.
---
Make sure to check out more DeFiRev articles and sign up for our exclusive newsletter + get access to VIP DeFi Networking here.
---
Share this article below !
Aave Crypto, DeFi asset secures institutional suitors
Aave brings DeFi to Institutions, raises $25 million from investors
DeFi is a world where everything is so dynamic and technologically savvy because it is one sector that is growing with change. Several platforms have come ahead, collaborated, and funded to bring new projects to the fore or lubricate the functioning of present projects to bring DeFi to the remotest corners of the world.
Aave has been a prominent DeFi player ever since its inception. By following the truest forms of decentralization measures, it is migrating to a new governance token AAVE. But bigger than that, the noted decentralized lending and borrowing protocol announced a $25 million investment from Blockchain Capital, Standard Crypto, and Blockchain.com ventures, among others.
CEO Stani Kulechov said that if new stakeholders are added, they will participate in the protocol's governance and staking. He further added:
"Aave raised funds from strategic investors to bring DeFi closer to institutional use and to expand the team size to serve the growth in Asian markets." 
Aave allows its depositors to earn interest by providing liquidity to lending pools. In such a case, users can borrow cryptocurrencies with even little collateral. In terms of the total value looked at, Aave is the third-largest with a TVL of $1.3 billion in assets staked on the protocol. The present funding that is being raised will present supplementary funding of the earlier $24 million that was raised through three token sales since 2017.
Traversing from LEND to AAVE
Earlier this month Aave started taking measures to gradually upgrade its LEND token to an all-new and a much more robust and powerful AAVE token. This confers voting as well as staking rights which will allow the community to have a far-reaching opinion that will matter in the overall decision-making. This is what decentralization in its truest forms will mean and Aave has a name for it also – 'Aavenomics'.
Kulechov explained, "Aave is now moving towards the AaveDAO, which means that after the migration from LEND to AAVE, anyone can build new functionality into the protocol along with the Aave team, effectively decentralizing development and governance."
The upgrade is also known as Aave V2 is a bag full of promises and surprises. It will host several new features and functionalities like debt tokenization, native credit delegation, fixed-rate deposits, and gas optimization. As per the latest information, the transfer rate is 100 LEND per 1AAVE with the new token having a market capitalization close to $637 Million. The AAVE holders will have the right to vote on the protocol and its policies with a new process called Aave Investment proposals or AIPs where the protocol changes can be submitted.
Gemini lists AAVE first
Last week also was news for the new token AAVE. Gemini, the cryptocurrency exchange co-founded by the Winklevoss brothers, became the first cryptocurrency exchange to list AAVE and also allow custody of its token.
The listing was first announced by Tyler Winkelvoss and was then shared by Aave's CEO on Twitter. The CEO noted that Gemini has become the first exchange to list AAVE as well as allow custody. Each AAVE token is worth 100 LEND tokens, with the maximum supply of AAVE being 16 million units. As of now, a total of 13 million AAVE tokens have been distributed to LEND holders, and the rest remains as part of the Aave Ecosystem Reserve.
Aave's flash loans are stated to give users access to tens of millions in capital for a small fee yet for a few seconds only. These flash loans have proven to be the cash cow for the protocol making it the most popular products in its kitty. The team had also announced that $500 million in flash loans had already been issued in 9 months since it was launched. This announcement was made in September.
AAVE's new price today is $50.83 with a 24-hour trading volume of $556,222. In the last 24 hours, AAVE price is showing up by 2%. The slight increase could be the news of the new funding injection into the protocol and the growth associated with it. Its current circulating supply is 5.5 million coins with a maximum supply of 16 million coins.
Source: CoinGecko
With DeFi very much grabbing headlines this summer, investors are looking to grab maximum stakes in promising projects like Aave. 
DeFiRev.com is #1 in DeFi News. Check back in soon to find out the latest in DeFi News.
---
Make sure to check out more DeFiRev articles and sign up for our exclusive newsletter + get access to VIP DeFi Networking here.
---
Share this article below !