The Rise of mStable. How to Yield Farm $MTA in 2020. Here's What you need to know.
Mine mStable's Meta ($MTA) and earn Rewards
DeFi is not just about DAI now. It has diversified into many other stablecoins to extract maximum benefit out there in the DeFi space. Being a new user in the DeFi space can be daunting because choosing the best stablecoin to earn the best yield can be tricky and convoluted. But DeFi is an evolving space and solutions are worked even before the problem comes in full-light.
Fortunately, mStable comes to the rescue with its meta-assets like mUSD that tackles the scathing issues of dissolution of USD-pegged stablecoins and also the dearth of native yield with the unification of stablecoin swapping and lending. mStable is a stablecoin aggregator of stablecoins to collateralize mUSD to enable traders to protect themselves from huge and permanent capital loss.
mStable: Why is it different?
mStable provides users to trade between top stablecoins like USDC and DAI with industry benchmark low slippages concurrently with collateralizing mUSD. If any stablecoin doesn't do well or experiences price decline, it does not affect the others. Just a month since its launch, yield farming has gained an absolutely astounding amount of attention, which is why mStable's APY has reached a sharp peak in very little time.
Introduction to $MTA and mStable
The mStable team has recently launched a new way to release a token to market. The new solution has the potential to grow the community of MTA governors and reboots MTA liquidity. The solution motivates long-term MTA holders paving the way towards a highly liquid MTA market.
MTA auction on Mesa platform that took place on 18th July on Mesa providing an open auction system, 2.66 million MTA were available for sale. It is a governance token that will be able to stride past important parameters like protocol fees, swap rates, etc with its key stakeholders called Meta Governors. MTA will work as the defense cushion against any capital loss. MTA stakers while rendering the service will earn protocol fees.
Here is a great video on how to Farm the $MTA token by Bankless
$MTA rewards
The MTA ecosystem will release 20% of MTA's total supply which amounts to 20,000,000 MTA over the next 5 years. This is a necessary part of the protocol as it will lead to a wider distribution of the Meta tokens and will bootstrap mStable. With rewards incentivization, users will mint more mStable assets leading to liquidity and utility. The mStable's first reward pool was launched on 26'th June this year on Balancer that created liquidity for mUSD. The Ecosystem rewards will carry on a monthly increase in its first 15 months and then gradually decrease until the allocation is exhausted.
Earning $MTA through Balancer Pools
As discussed, MTAs first reward pool is a Balancer pool that provides 50% weightage of mUSD and another 50% to USDC. Minting USD can be done by any user by depositing equal portions of mUSD and USDC in the pool. This will immediately navigate the system to earn MTA over and above the BAL token rewards and also the Balance pool profits. The other MTA reward pool is yet another Balancer pool which is mUSD/WETH.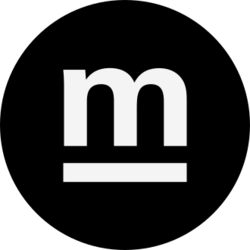 A total of 350,000 MTA will be rewarded to liquidity providers of the pool in the first month. Every passing week will provide a snapshot at any time when 50,000 MTA will be allocated to the addresses that are participating. The allocation will be in tandem with their contribution to their respective pools. Minting mUSD can be done by depositing in a 1:1 ratio of USDT, TUSD, DAI into mStable. Multiple stablecoins can be minted at the same time also with limits set on maximum weights for each basket.
mStable provides stable governance and the MTA token reduces the impact or rather the risks for mUSD holders. If any asset declines in its value causing mUSD to decline in its peg, the Meta governors can vote to wipe off the asset to reconcile the lost value by selling staked MTA tokens for the remaining mUSD.
Stablecoins are a useful store of value and mUSD takes it a notch above by redefining the functionality and eliminating risks for the holders. While deploying capital can be a challenging task, with mStable platforms, stable coins expansion is surely on the cards with competition heating up and becoming intense.

We at DeFiRev.com are definitely quite excited to see what mStable has in store for the future and we're looking forward to watching its journey unfold in real-time.
---
For more information, you can join the mStable telegram here: t.me/mstableofficial
DeFiRev.com is #1 in DeFi News. Check back in soon to find out the latest in DeFi News.
---
Make sure to check out more DeFiRev articles and sign up for our exclusive newsletter + get access to VIP DeFi Networking here.
---
Injective Protocol, the new Binance IEO, packs a punch
Binance announced its 16th project on Binance Launchpad, the Injective Protocol (INJ). The token sale for injective protocol followed a lottery format and Binance has completed the lottery draw for the protocol with the below-given outcome:
A total of 22,175 total participants claimed a total of 157,870 tickets during the ticket claim period.
18,000 tickets have been won out of the 157,870 tickets claimed which showcases an 11.40% ticket win rate.
An aggregate of 16,074 participants had at least one winning ticket implying that the user win rate was 72.4&%
As was decided, Binance recorded the user BNB balance for 6 days right from 13/10/2020 to 19/10/2020. It determined the final BNB holding amount for each user based on the average of the 6 days. In order to do so, it used the daily average BNB balance calculation which was also previously announced on its website.
Binance Launchpad which is an exclusive token launch platform for transformative blockchain projects announced a few days ago about its support for the first Universal DeFi protocol mainly intended for cross-chain derivatives trading. The injective protocol has become the first project which has been incubated by Binance Labs. The $3.6 million token sales which apparently took the lottery-format ticket claim began October 13 2020 at 0.00 AM (UTC).
What you should know about Injective protocol
The Injective protocol is undeniably the first-ever observed layer-2 decentralized exchange protocol which by design can successfully unravel the potential of decentralized cross-chain derivatives trading as well as borderless DeFi.
INJ is the native token of the Injective protocol which can be used across a wide range of functionalities including the governance of protocol much on the lines of the popular Yearn.Finance.
The governance decisions will be reached through a DAO structure, liquidity mining, and staking. The platform also intends to provide support to a vast array of derivative products like CFDs, perpetual swaps, and much more.
Important features of Injective protocol
With its layer-2 decentralized derivatives trading, Injective will be able to achieve a great trading speed without the charge of any gas fees for trading. The level-2 architecture is something new and unseen in the DeFi space and makes it happen.
Injective also has finer capabilities of supporting a wide array of yield generation and trading across distinct layer-1 blockchain networks.
The injective protocol also will allow the users to create and trade on any derivative markets including synthetic and crypto-assets. They can choose which they want with a price feed. Thanks to this, the users will be able to witness a huge window of limitless opportunities for trading on markets that otherwise may not be found on other exchanges.
As mentioned earlier governance of the injective protocol like Yearn.finance is governed by its decentralized community. This means that new listings or any changes in the network are done based on the votes via a DAO structure.
The injective protocol is promoted for its speed because it scales trade execution and settlement on layer-2 along with providing the traders an almost instantaneous order cancellation with the help of its trade execution coordinator.
Injective Protocol : The value for the community
The community of the protocol can effectively grab the value from the network because it has several liquidity mining programs that have been natively built onto the network in order to grow on a continual basis. Injective is also rallying on the robust shoulders of social media with 23,000 members and still going strong.
The community can also find respite from the fact that the protocol has some of the biggest names in the corporate world. Its team has a great track record and hail from big companies such as Amazon Zeppelin. Some even have the experience of being associated with promising hedge funds. The team also boasts of people who are alumni of Ivy-league institutions such as Stanford. The protocol organization has currently established several partnerships with top DeFi and Blockchain networks including names like Elrond, Kava, and Findora.
Injective Protocol and why you should care
The platform makes use of both Ethereum and Cosmos ecosystems through the peg zones. It has built every component of the network to be entirely trustless censorship-resistant and publicly verifiable. Binance CEO said:
"It's great to see more and more projects joining Binance Launchpad. We are pleased to provide our support for the Injective Protocol and help grow the DeFi space together. We're looking forward to seeing Injective leverage decentralization to build a more efficient financial ecosystem".
DeFiRev.com is #1 in DeFi News. Check back in soon to find out the latest in DeFi News.
---
Make sure to check out more DeFiRev articles and sign up for our exclusive newsletter + get access to VIP DeFi Networking here.
---
Filecoin – Hit or miss? Three entire years after the ICO, we look back on the Filecoin launch.
At present, the major world data solutions are AWS, Google, and S3. These organizations act as the trust third parties that provide data storage. They are preferred despite their flaws and security hindrances. The data is stored in centralized places which makes it susceptible to attacks and data breaches.
This is where Filecoin comes into the picture.
Juan Benet through his innovative solution Filecoin aims to deal with this trouble. It calls for the elimination of risks that come with centralization. Filecoin has been built and developed by Protocol Labs. Juan Benet had also founded the Protocol labs. The concern is specialists in providing peer-to-peer technology development.
The team brings valuable blockchain experience thereby provisioning extensive experience in the development and deployment of open-sources technology. Filecoin enjoys the leverage of these technologies of innovation. Before the Filecoin ICO, the team worked on a restricted budget of less than $3.5 million but after the ICO took place it totally turned the tables and changed the company fortune.
The Filecoin ICO
To date, Filecoin's ICO is counted as one of the most successful ICOs in the history of cryptocurrency markets. The ICO apparently raised up to $257 million. On 10th August 2017, Protocol Labs opened the ICO to the public. Within an hour the ICO site was closed. On closure, Filecoin ICO raised an earth-shattering amount of $275 million including $52 million of the pre-sale amount. Filecoin had concluded the much-discussed and talked about advisor sale which brought $52 million from 150 investors including Sequoia Capital, Andreessen Horowitz, Union Square Ventures, Winklevoss Capital, and about 100 individual high-profile Silicon Valley investors.
Many were concerned with the method of ICO distribution. Like many ICOs, Filecoin was operable on a first come first serve basis meaning that people feared congestion of network or unfair price distribution depending on payment confirmation times. Filecoin responded that all investments made in the first hour would be averaged so that it followed a fair method with the standard price increase taking place for all investments not made in the first hour.
The Filecoin ICO has gone down in history as one of the successful ICOs.
Filecoin goes live after three years
Filecoin, the decentralized information storage project announced on September 28th that it finally has a launch date – 15th October. On the stated date, Filecoin finally launched its mainnet at block 148,888. The launch comes three years after its ICO and there have been extreme delays and uprising especially against Protocol Labs
Filecoin had announced a multi-phased plan to launch the mainnet in late September which started with a pre-liftoff phase. Filecoin also stated that it hosted a testnet competition called Space Race which was incentivized. More than 500 miners onboarded more than 325 pebibytes of storage capacity thereby conducting the event successfully.
Filecoin finds many takers
The excitement surrounding Filecoin accentuated when the announcement of the mainnet was made. Gemini and Kraken exchanges had already announced the trading pairs much in advance of its mainnet release. This is a good sign for it because Filecoin elucidates confidence in its prospects. Coinbase has also offered custody support for FIL. In fact, on many platforms, the price of Filecoin has even gone above $200.
Allegations against Filecoin
Just within a few days of the mainnet launch, Justin Sun tweeted that the storage organization was involved in an exit scam strategy, after which a crypto Twitter user alleged that the Filecoin miners are apparently on strike since the last week. Justin Sun who is known for marketing gimmicks alleged that things do not seem right but as these allegations were dying away, Nico Deva, a Twitter user claimed that a majority of miners in Filecoin were on strike because they needed more FIL tokens to exploit the mining capacity. Further, it was noted that five of its biggest miners from China are on strike because the main problem lies in not having sufficient FIL tokens.
Is Filecoin a hit or a miss?
Filecoin has faced a lot of setbacks now, but looking at investor confidence, Filecoin can prove to be a project worth looking at and exploring. Whether the project becomes a success or not, only time will tell.
DeFiRev.com is #1 in DeFi News. Check back in soon to find out the latest in DeFi News.
---
Make sure to check out more DeFiRev articles and sign up for our exclusive newsletter + get access to VIP DeFi Networking here.
---
Polkadot: How the Initial Parachain Offering works
Polkadot's Initial Parachain Offering has the potential to replace traditional financial tools
The DeFi sector has been in the limelight ever since Interesting projects have graced the platform. Not just newer additions but even existing projects have incessantly worked towards improving its offerings.
Polkadot is the next-generation blockchain protocol that has come with an interesting proposition – a secure way of funding projects through a new concept called Initial Parachain Offering (IPO). With this Polkadot will be leveraging its already existing parachain architecture using its native DOT tokens.
A new idea on the block
The blockchain technology through its new move is all set to replace traditional financial instruments with Polkadot leading the front. The Polkadot Initial parachain offering will introduce a completely new model to launch blockchain and other decentralized projects. The idea is to create a process so transparent and scalable that it rules out even hints of uncertainties. Crypto markets have taken cues from the conventional IPO (Initial public offering) markets and came up with Initial Coin Offering or ICOs for raising funds for new crypto projects.
The initial parachain offering aims to revitalize the concept of the crowdfunding mechanism. The IPO is stationed on Polkadot's core architecture of parachains which is nothing but manifold parallel blockchain shards that contribute to improving the scalability of the network. Polkadot through its relay chain offers layer-zero security as well as interoperability. In this case, all the parachains are attached to the network and serve as sovereign layer-one blockchains.
This will let the parachains share Polkadot features like scalability, governance functionality, interoperability and security.
How Initial Parachain Offering works
As claimed by Polkadot, the goal at the moment is to support 100 parachains connected to its blockchain. But, as the slots are limited, they will be automatically auctioned through a permissionless auction process. In order to participate in the auction, the parachain projects have to undergo the entire gamut of the Initial Parachain offering process. This will set the string for projects to accept DOT loans through DOT token holders. Funds raised via the crowdfunding module will directly get processed into the Polkadot Relay Chain.
If the project manages to get sufficient contributions to win the auction, then the DOT loans will be returned to the contributor at the end of the parachain lease period. If the project fails to secure enough contributions and the auction gets out of hand, then the DOT will be returned to the contributors immediately.
To make things more understandable, the Polkadot Relay Chain will work as an escrow fund safety for the DOT holders. This will be totally unlike ERC20 tokens ICO funding where investors send their ETH to an unknown address. On top of that, they might never withdraw later when the project fails. But in the case of Polkadot's Initial Parachain Offering, investors also get their DOT tokens back by the end of the Parachain lease period and this is what sets it apart. It eventually helps a great deal in creating a safe and secure ecosystem not just for the investors but even for projects.
This concept looks extremely promising as of now because it has gone in-depth, studying about present flaws in the crypto ecosystem created a value proposition to better fundraising in the crypto market.
About Polkadot
Polkadot was launched in 2016 and run by the Web3 Foundation. It has been created with a motive to build a free decentralized web. But, the foundation as of now is in a contract with Parity technologies to build its protocol. Polkadot has some of the biggest names in its team. Gavin Wood, Peter Czaban, and Robert Habermeier are the co-founders of this much-celebrated platform. Gavin Wood in particular is also one of the co-founders of Ethereum that brings in a sense of confidence and legitimacy in the eyes of crypto enthusiasts.
The team at Polkadot network has wide experience with distributed ledger systems, cryptography, and wallet technology. Polkadot has been the outcome of multiple independent teams that have contributed to its development. The team believes that Polkadot is a project by developers for developers and looks at connecting public and private chains, DApps, and oracles. Polkadot has seen great success with its recent native DOT token which already is featured in the top 10.
DeFiRev.com is #1 in DeFi News. Check back in soon to find out the latest in DeFi News.
---
Make sure to check out more DeFiRev articles and sign up for our exclusive newsletter + get access to VIP DeFi Networking here.
---
Share this article below !