Synthetix (SNX)
Synthetix Network Token (SNX)
Synthetix is a decentralized synthetic asset issuance protocol that is collateralized by the Synthetix Network token (SNX). Built on the Ethereum platform, the SNX tokens allow for the issuing of synthetic assets. In March, Synthetix initiated an incentives program for liquidity providers of sUSD which is the native stable coin of Synthetix. The campaign with a test period of 4-weeks, launched through the Curve and iEarn exchange protocols, yearns to distribute 32,000 SNX tokens on a pro-rata basis to providers who stake their Curve LP tokens. This was an attractive prospect for yield farmers because you are earning interest on your stationary digital assets and liquid assets which can be sold off immediately.
You can go to their exchange here.
---
Check back in at DeFiRev.com to find out the latest in DeFi News and to see what the next Hot Project 🔥 is !
Make sure to check out more DeFi Revolution articles and sign up for our exclusive newsletter + get access to VIP DeFi Networking here.
---
An insight into TomoChain, TOMO, and TomoDEX Exchange
TomoChain is an incredibly ambitious project. Let's take a deeper dive on TomoChain and what it does.
TomoChain offered its ICO on March 1st 2018 where it was able to raise $8.5 million USD. Users could purchase TOMO – the native token of TomoChain with ETH for 0.25 USD per token.
TomoChain is a popular extensible Proof-of-stake Voting(PoSV) consensus that is powered by blockchain, and has been able to fetch 2000 TPS and a near $0 gas fee without the need to give up decentralization. In simpler words, it is a decentralized project running on the blockchain that solves the scalability issue by increasing TPS which is Transactions per second.
The entire product ecosystem lets users of all scales build feature-rich blockchain projects and DApps using its EVM-compatible platform. The popular platform has features that aim at improving speed, provide better privacy, and fulfill overall liquidity needs.
PoSV token holders are incentivized to stake across a huge network of 150 top-notch master nodes and control the performance and governance on an equal note. The performance layers added due to PoSV offer several benefits like enhanced security and reduced risks of blockchain fork, faster transactions with rapid confirmations to eliminate checkpoint miseries.
Validators Include: Binance, KuCoin, CoinGecko, HashQuark.
Did you know?
TomoChain has been in mainnet since December 2018 and is the largest Blockchain from Southeast Asia, with multiple businesses using their technology. They are regularly highlighted as one of the larger blockchains on dapp.com and dappreview.com with respect to the value of transactions taking place.
*Gas fees are nominal and oftentimes near free, and tens of thousands of transactions can be done for a single TOMO.
How does TOMO Work?
The PoSV consensus mechanism is used by TomoChain to run the network with increased layers of security. It does not need any hardware as it uses staking to reach consensus. All that the user needs to do is to stake their TOMO tokens online after which you will get rewards for securing the TomoChain network. Anyone can stake TomoChain but there are only 150 masternodes in the system that can vote in the network. These masternodes are elected by the TOMO token holders.
Stakers can secure the network with the automatic validation of transactions that will also focus on decentralizing. The simple mantra is that when more people stake TOMO, the better it is for the network. It is hence advisable to stake TOMO not just to yield gains but also to increase the security of the system.
TOMO token
TOMO is the native token of the TomoChain network that runs the network by proffering the standard value for the chain functioning in similarity with Ehtereum. The token holds the key within the ecosystem as it is an important part of staking and masternodes operation. Tokens also are used to vote for the future path of the network. The role of the token in the network is unparalleled because it also helps in lowering the risks but as is the case with any blockchain project, the asset is still characterized by high-risk.
TomoChain is secured by staking which is a process that involves holding tokens in a compatible wallet. With the staking of TOMO tokens, stakers can get rewards on a regular basis just as you do in the case of dividends earned on stocks. According to a source, the annualized ROI for TomoChain tokens or TOMO is 6.33%! Staking rewards for TOMO are paid out every 30 minutes which is a benchmark implying stakers do not have to wait for months and months to get their passive income. Staking here happens in two ways:
Mobile Staking for TOMO is available on iOS, Android and Google Play
Where Tomo fits in with DeFi:
TomoChain has been focused in the DeFi space since its inception. Their whitepaper was published explicitly stating that their focus was on introducing an open finance approach to blockchain.
Notably their layer 1 protocol, TomoZ, which allows any token to be issued where the gas fee is paid by the token itself.

Recent News
The latest layer 1 protocol was recently greenlit on TomoChain, TomoX. TomoX allows any business to launch a decentralized exchange in minutes. Everything is permissionless, on-chain, and performance is at the speed of their blockchain (2000 tps) This is because it's a layer 1 protocol (not layer 2 as is typical).
As such their Masternodes, that secure the network, also directly manage the order book and transactions. The native TOMO backs all of the activity and governance. And no gas fees. All fees are paid in the token being traded.
In Q4 of 2020, the team plans on launching their next Layer 1 Protocol, TomoP. TomoP is the Privacy Suite which completes the trifecta of DeFi Layer 1 protocols on TomoChain. The team says it will allow for the fastest privacy sends of TOMO, its tokens, and wrapped BTC, ETH, and more.
Additionally, there are plans to allow for Dapps to integrate private functionality.
This is an order-book which was built on the TomoChain officially launched this year in May. The Tomo Decentralized exchange is the first DEX which is powered by TomoX protocol mainly to create liquidity.
TomoDEX at present supports 6 spot tradings and P2P lending. Users can use the TomoWallet to create an account on the TomoChain.
The pairs it supports are TOMO/BTC, TOMO/USDT, ETH/TOMO, BTC/USDT, ETH/USDT, ETH/BTC, YFI/USDT, FTT/USDT, VNDC/TOMO. Its corresponding ETH, BTC, USDT are wrapped TRC-21 tokens swapped by the TomoBridge. The governance of the exchange is taken care of by its core team.
TomoDEX, specifically, is now listed on Coinmarketcap, CoinGecko, Dapp.com, DappReview.com and other sites.
Exchanges/Payment Services:
TomoChain earned their listing on Binance by winning the 2nd ever community vote on BinanceDEX.
They are also listed with FTX, Crypto.com, Simplex, KuCoin, MXC, BiKi, Changelly and many others.
Conclusion
TomoChain is an incredibly ambitious project, and its token serves several use cases. The ecosystem they are building is certainly very impressive and shouldn't go unnoticed. They have also partnered with several blockchain projects like Constant, Terra Money, Morpheus Labs to access exclusive user bases.
TomoChain has a very passionate, loyal, and intelligent community that finds holding the TOMO token to be a very wise investment, especially when it comes to staking and the ability to run a masternode.
There are several areas where you can discuss the project with other enthusiasts and traders. Its most noteworthy communities are:
---
DeFiRev.com is #1 in DeFi News. Check back in soon to find out the latest in DeFi News.
---
Make sure to check out more DeFiRev articles and sign up for our exclusive newsletter + get access to VIP DeFi Networking

here

.
---
Centric : The Dual Currency Payment Network. You've seen it everywhere, but what is it?
Centric employs a novel Proof of Burn mechanism for its dual currency payment network.
Centric is the world's first dual-cryptocurrency network. Its innovative and unique concept is engineered to achieve a major breakthrough as a reliable form of payment.
Being a Blockchain-based payment network, Centric is comprised of two distinct tokens that facilitate stability, a formidable incentive structure, and a store of value for early adopters. The exchange between its two tokens is piloted by a decentralized smart contract and autonomously regulating protocol.

Here is Why Centric is Different:
The first token, Centric Rise $CNR is the network's transactional currency – it steadily increases in price hourly in accordance with immutable price blocks set publicly one year in advance. The second token, Centric Cash $CNS is pegged to the first and will freely trade on major cryptocurrency exchanges.
The exchange between the two tokens is governed by a decentralized protocol that self-regulates token supply to meet ongoing changes in demand.
In combination, the two token relationships solves key problems experienced by first-generation cryptocurrency projects. On one hand, it offers a reliable store of value; on the other, it provides an upside incentive for early adopters to join the network.
---
Fundamentals:
1. Innovative economic model.
2. Externally audited and verified.
3. Decentralized global currency with a solid incentive model.
4. Sustainable, with an exciting long term road map.

---
Proof of Burn :

Supply, is forced to meet demand…

The fully decentralized Centric protocol regulates the Centric dual token economy, the foundation sets the $CNR price yearly in advance, the market values the ecosystem trading $CNS which provides on demand liquidity to $CNR holders.
Centric Rise Price increases every hour.
The more Centric Cash minted the faster Centric Rise burns.
The number of Centric Rise in circulation can only reduce.
Centric motivates Market Stability
Stability in tough times is rare, especially with volatile markets. But Centric Cash promises stability. Because when the price of Centric Cash moves away from its target price in the short-run, the structure schematically reduces the force of instability. If the price of Centric Cash goes above $ 1.00 a notification is popped for liquidating which will automatically pull down the price to the targeted one. The advance setting of the market price of Centric Rise makes the future value known factoring in little deviations and self-adjusting mechanisms to handle aberrations.
Centric stimulates better Adoption
The token is designed with a principle: the more the adoptions, the faster the centric tokens are burned out of circulation. The Centric think tank is vigilant about the trade to immediately burn tokens when the investor base increases. Centric Rise is not governed by the whims of the market because the token has an infused element of tackling volatility. It is very different from other cryptos because its price is immutable and it is not minted until it is exchanged as a smart contract. Value storage and liquidation go hand in hand with such an advantage.
Centric enhances Predictability
Believe it or not, the Centric Rise token price is predictable. Every hour the price increases in value which is published to the blockchain a year in advance. This is a great incentive for investors to join early when financial structures can be established. Click to find future prices.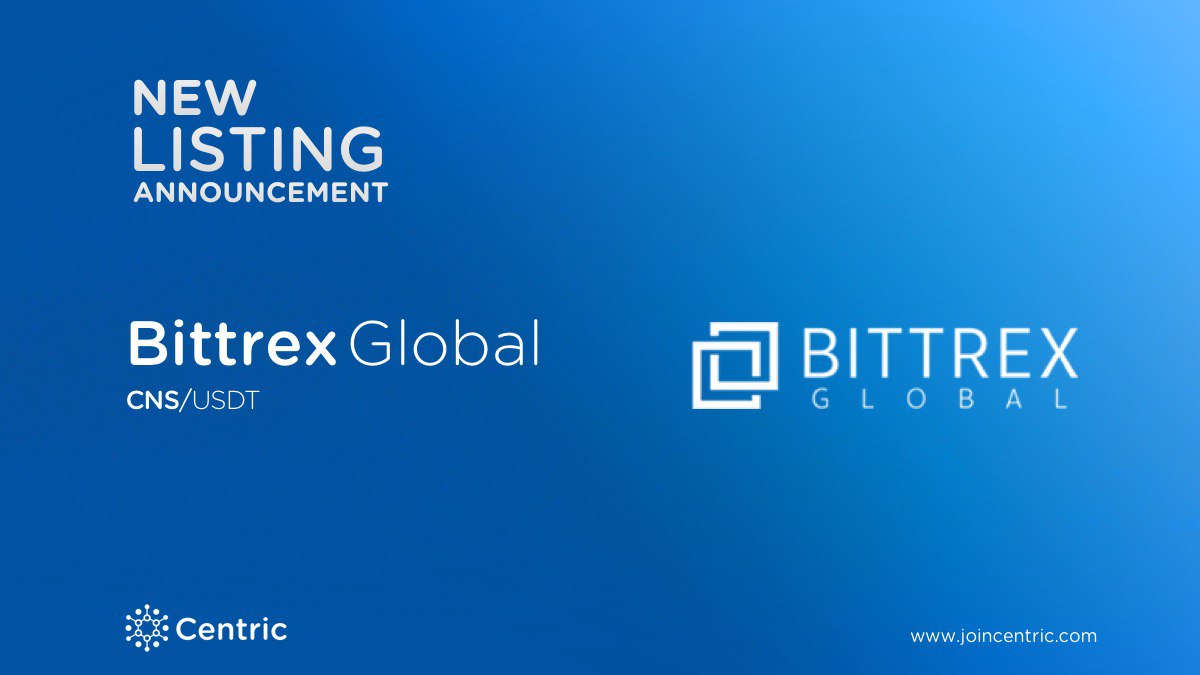 Centric encourages Price Stability
Centric has formulated the dual token system to mitigate volatility hence it has inculcated the concept in its design, rather than doing it superficially. What it does is that it allows the price to go up in a specified manner with an immutable protocol that has instant reactions to real-time demand and supply. The two classes of tokens balance aggregate demand with a feedback structure. It combines external factors and the internal dynamics of the two-token system to maintain the 'fixed' rate of Centric Rise. No other cryptocurrencies can do that, as mentioned previously, it is in the design of Centric to curb volatility.
Centric Cash (CNS), the publicly traded cryptocurrency, will be listing on Bithumb Global, CoinTiger, Probit, OIKOS, anc Centric Swap on July 28th, 2020.

Deposits will be available : July 28, 2020 at 10:00(UTC+8)  Deposit here >>
Trading will be available : July 28, 2020 at 17:00(UTC+8)  

Trading here >>
Trading Pair:CNS/BTC | CNS/USDT


---
Official Website: www.joincentric.com
Whitepaper: https://www.joincentric.com/docs/Centric_Whitepaper.pdf
---
DeFiRev.com is #1 in DeFi News. Check back in soon to find out the latest in DeFi News.
---
Make sure to check out more DeFiRev articles and sign up for our exclusive newsletter + get access to VIP DeFi Networking here.
---
DMM- DeFi Money Market launches with DMG Token.
DMM (DMG) – The first DeFi protocol backed by real-world assets
The DeFi Money Market (DMM)is a permissionless, open, and transparent ecosystem stationed on the Ethereum Blockchain that entrusts its users worldwide to earn positive returns. In this ecosystem, the real-asset owners will be able to penetrate into the web of Ethereum digital asset owners for funding, allowing asset lenders to earn passive income.

The full whitepaper can be found here.
The yield will be earned through digital assets supported by a bundle of real-world assets that generate interest carried on-chain into the DeFi space. Therefore, the asset lenders or owners can involve themselves in collateralized borrowing at rates that are competitive.

This means that DMM tokens offer a balanced and steady ROI on the deposited funds at a rock-steady 6.25% APY. Compare this to other on-chain money markets, they offer fluctuating interest rates largely driven by speculative traders. Also, DMMs collaboration with Chainlink's decentralized oracles invests extra layers of security and trust in the ecosystem. It writes imperative data on-chain which guides through the valuation and cumulative collateralization.
Interest earned is sent back to the DMM DAO ecosystem where DMG can be exchanged with ETH/DAI/USDC that includes the accrued interest also. With Ethereum introducing the delegated payment mechanism, fees can be paid in DMM mTokens instead of ETH. It has become hugely expensive to execute smart contracts through the Ethereum platform. This move has been welcomed by the traders and investors who prefer paying low fees along with the security of the PoW blockchain platform.
---
DMM: The DeFi Money Market
The DeFi Money Market foundation funded by Draper Goren Holm initiated the first sale of DMG governance token which will guide the DMM DAO. The sale opened on June 22nd and will run for a month or till the allocated tokens are exhausted. It is being launched as an Initial DEX Offering for wide access for anyone with an Ethereum address and internet connection.
Overview of DMM
The DMM DAO governance token fosters community governance building further the foundations of the DMM ecosystem and protocol. DMG plays a critical role in fomenting wider participation and minimizing governance risk. DMG breeds governance of the ecosystem with the DMM DAO that controls Ethereum smart contracts and the contiguous assets.
DMG ownership implies the right to govern the guiding principles of DMM protocol
Total leeway about participating in decision making about introduction of new asset types and asset location.
DMG tokenomics can be altered by the decentralized community governing DMM DAO. This also includes an enacted claim on revenues generated within the DMM ecosystem.
Why should you care about DMM?
The yields are linked to the performance of DMM assets which generate incomes. This is a satisfying measure because it implants an element of trust owing to stability. Also, since the assets are tokenized they are transparent and can be easily viewed from a distributed layer.
In the world rife with volatility, DMM yields are pretty stable because DMM assets are supported by tokenized real-world assets that link traditional finance and cryptocurrencies. Stability plays a major role in making decisions and predictions.
Its partnership with ChainLink adds an additional layer of security to the DMM ecosystem because it writes essential on-chain. Chainlink securely takes information on the assets in the ecosystem and puts them on-chain. This way users get first-hand reports on the overall health and collateralization of the DMM ecosystem. It also instills other important information for the participants to make them understand how interest is generated with its allocation.
There is an amazing amount of flexibility offered because the interest earned by a DMM holder is accrued per block. Holders can both enter and exit the DMMA without any time bondages.
Upcoming Important Dates for DMM
OKEx, the leading cryptocurrency spot, and derivatives exchange have announced that it will list DMM governance Token (DMG) with trading pairs against Tether and Bitcoin.
DMG spot trading commences at 3:00 am UTC on July 17, while deposits of DMG will be available starting from 3:00 am UTC July 16. Withdrawals will commence at 3:00 am UTC on July 20.
The IDO sale is live till date on two centralized exchanges dmg.defimoneymarket.com and mesa.eth.link
---
DeFiRev.com is #1 in DeFi News. Check back in soon to find out the latest in DeFi News.
Make sure to check out more DeFi Revolution articles and sign up for our exclusive newsletter + get access to *VIP DeFi Networking*

here.
---